Sunbed hire and sales throughout Shropshire and the West Midlands
Based in Shropshire, we are an established company, trading in sunbed hire and sales since 1986. We take pride in a quality service and base our reputation on customer satisfaction.
All of our hire units are manufactured to a high standard, with twin safety timers, to comply with the current British and European standard – BS EN 60335-2-27: 2013.
We have a range of tanning units including Canopies, Twins and Vertical sunbeds. Hire charges vary depending on the type of unit, hire period and your location but sunbeds are available from £45.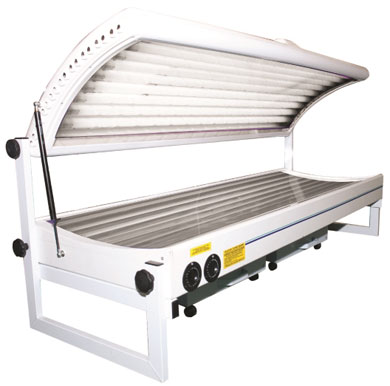 For information on our selection of tanning beds for sale, please visit our product pages. Our range includes vertical tanning booths, twin and canopy sunbeds. We also stock spares and sunbed lamps.
First time customer excellent service loads of info given delivery and setup quick and right on time. The sunbed itself is fantastic, won't be using tanning salons again. Hire price is very very good; well recommended. Hoping to keep hold off the one i've hired for quite a while yet.
I've used Scantech sunbeds for a long while now and I wouldn't go anywhere else! The rates are cheap, the tubes are hot and there's no better feeling than having a decent tan! If your looking for good service and to be feeling good about yourself, then look no further!
Scantech have recently done some re-tubing on my beds they are by far the best tubes to have been installed in our salon. Customers have noticed the difference in their quality of tanning. The service which Richard provided was extremely professional and always willing to give me any advice I may need and the prices are most reasonable too. I would definatley recommend Scantech. Great service, reliable would not use anyone else….
If you would like more information on hiring a sunbed or would like to purchase a sunbed, contact us today and a member of our team will be in touch.